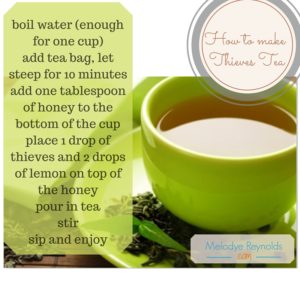 I don't drink coffee! I know…I can hear the gasps now! I can't. The caffeine inflames my stomach and I will get very sick.
But something I can enjoy on a cold day is a hot cup of Thieves tea. Thieves is an essential oil blend (meaning it has more than one essential oil in it) from Young Living that is wonderful for boosting your immune system. We all know that when your immune system is functioning at it's best you feel better and you are better able to fight off germs. Essential oils are great for giving that system a nice boost.
There are many ways that you can use Thieves to do this. One way I like to use it is to make Thieves tea. It is very yummy and it smells like Christmas! I also add a few drops of lemon essential oil for taste. (Lemon oil is also great for cleansing the body!)
As an added bonus, the Thieves blend contains clove oil which can have a numbing effect so if you have a scratchy throat, the tea can provide some comfort.
Here's how to make it!
Read More