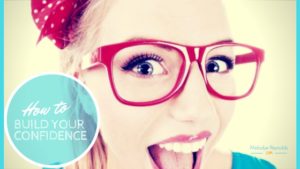 Let's have a talk sweet friend. If I could impart to you ONE thing it would be confidence. I believe that it (along with fear as its equal) is most people's biggest struggle.
I believe that we are born thinking we can do anything. Ask a 4 year old what they want to be when they grow up. You'll get all kinds of answers. Some may even want to be the moon itself. They have so much confidence that they don't even consider limitations!
So what happens? The enemy uses other people to tear our confidence down. We are labeled, told what we can and can't do, and made to feel insecure. Words spoken over us at an early age sink into our souls and we start to believe them. We develop wrong thoughts and perceptions about ourselves and some are forever trapped in that.
That is NOT how we are suppose to feel. If we really love God we have to believe what He says about us.
You see, He doesn't make mistakes. He made you exactly the way you are on purpose. If you're not confident in who you are, you need to ON PURPOSE change your mindset. You need to feed your brain and ears with the TRUTH about who you really are. Faith it until you make it. Believe the TRUTH, that you are beautiful, unique, worthy, IMPORTANT and beloved, IN FAITH. Choose to believe the good over the bad. Choose to believe that you matter. Choose to believe that the world needs your gifts!
Surround yourself only with people that life you higher. Refuse to be with those that don't value you.
Learn that we are all just people in the end, trying to figure this thing called life out. You can do anything anyone else can do, you just have to take the leap and DO it!
Get over trying to be perfect. In the end, DONE is better than perfect any day. Don't get to the end of your life and say what if I had just stepped out. I wish I had not let fear stop me. But instead choose to live boldly so you and look back and say, YEAH, I TOTALLY DID THAT!
Blessings,
Melodye