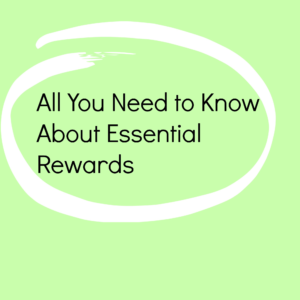 Essential Rewards
Young Living offers a reward program to help its members save money. It is known as the Essential Rewards Program and if you order regularly, it is a must do.
Essential Rewards is a program where each member can earn points that can be cashed in for free product. In fact, I just placed a $200 order and all I paid for it was the $7.00 shipping plus taxes!
So here are the basics of how it works:
You are not required to distribute or sell anything in order to enjoy the benefits of Essential Rewards!
It is an autoship monthly program. It comes to you once a month.
Each month you are required to place a minimum order of 50 PV (product value) or more to be an Essential Rewards member. (Most of the time the product value matches the cost of a product dollar for dollar. Make sure you check the PV of each product just to be sure as there are some exceptions.)
You are allowed only one Essential Rewards order a month (no fear, you can make as many regular orders as you want but if you want to earn the points, the order has to be in Essential Rewards. So keep a list of what you need each month to refer to!)
You are given reduced shipping prices (hello…HUGE money saver right there folks! Especially if you drink Ningxia Red like we do!) on your Essential Rewards order. $6.98 flat rate up to 5 lbs.
You earn one point for each dollar spent (remember, check the PV of each item) and then get a percentage of points back on your order (see below).
The longer you participate in the program, the more you save! You are rewarded for participating!
Months 1-3 you receive 10% back in points
Months 4-24 you receive 20% back in points
Months 25+ you receive 25% back! (Combine that with a wholesale membership and you save 44% off of retail prices!!)
You also get gifts at 3, 6 and 9 months with a SPECIAL GIFT at month 12!
You can then cash in your points for products and all you pay is shipping and taxes! How awesome is that!
You do not have to order the same thing every month. You can change it each month to meet your individual needs.
Another perk is that Essential Rewards has a number of product kits that offer an even bigger discount on things such as Ningxia Red and Thieves to name a few. The kits are preassembled and are the most budget friendly way to order them.
You can skip one order a year if you need or want to and you can cancel at any time! You can even change the processing date each month if you want to.
This program offers a lot of perks!
So…how can you join this program?
If you are already a member, log into the virtual office and click on the "essential rewards" tab on the left. The system will guide you.
OR
Call Young Living customer service and they can assist you.
This program has saved my family and I so much money. If you find that you order frequently, this program can save you money too!
If you are not a member and would like to join, click on the article here that explains how to get started!