There are two ways you can buy Young Living essential oils.
1. As a wholesale member
2. As a retail member
Let's take a look into what each one involves…
Wholesale Membership
You enroll as a wholesale member simply by purchasing a Premium Starter Kit through a Young Living Distributor (ME!)
Oh…and in case you haven't checked out the Premium Starter Kit, let me just tell you that you get 11 main oils, tons of samples, AND a diffuser of your choice! Click to see what comes in the starter kit!
Wondering why the stater kit is THE BEST option for buying Young Living essential oils? This video explains…
Once you purchase your kit you are now an active wholesale member…that's it! How easy is that!?
Membership fees: Purchase $50 of product A YEAR
You receive a 24% discount on all orders (with no minimum requirement for each order)
You never ever have to sell…ever. I promise!
You have no minimum monthly order to make. You simply have to spend $50 total over the course of one year.
A wholesale membership gives you the option of enrolling in our monthly order money saving program called Essential Rewards (also known as ER). Enrolling in ER is completely optional and you don't have to enroll when you first buy your starter kit either, you can enroll at any time! ER is a monthly auto-ship program that allows you to purchase oils and products in any quantity and combo each month (and you can change the order each month! The best part about ER, and why everyone should sign up for it, is that you can earn up to 25% back in points from your purchases to use to get free products! ER also gives you reduced shipping and access to a bunch of promos and sales! (Oh, and you can cancel and freeze your ER with no penalty!)
Read more about essential rewards
You can always submit a "Quick Order" at any time to get what you want, when you want it if you feel impulsive.
You can earn $50 for each friend or family member that you refer…this is unlimited and you still never ever have to sell!
A wholesale membership isn't just for someone who is gonna buy a lot of stuff either! You don't have to be "that crazy oil lady" (like me)…it is just a great way to get a discount!
Also, you do have the option with this membership to sell if you wanted to (and ONLY if you want to). This allows you to participate in the Young Living commission plan.
Click to see instructions for getting a wholesale membership with me!
Retail Membership
You sign up as a retail member through a YoungLiving Distributor (like me). This just involves you signing up with your contact information.
As a retail member, you will pay full price on all orders
Unfortunately, this membership does not qualify you to receive points back on purchases for free product
Just like a wholesale member, you can order whatever you want whenever you want.
Click on the button below and select "Retail" as shown in the photo.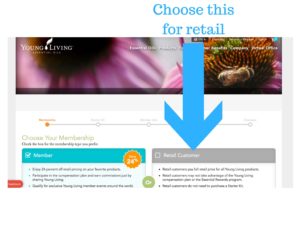 Please be sure that my member number shows in the enroller and sponsor boxes like in this photo: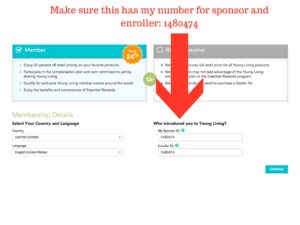 Click here to order your oils as a retail customer
Whatever way you choose to buy them, I am so excited for you to experience what these amazing oils can do and I am honored to get to be part of it in some way.