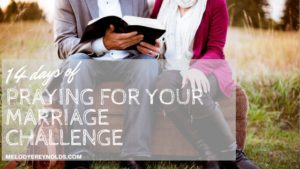 Do you feel the need to pray more bodly for your marriage but not sure where to start?
One of the most powerful things you can do for your marriage is to pray for it, for yourself and for your spouse. By taking the time to focus your prayers and dedicate them in honor of your marriage you are making your relationship a priority and taking spiritual authority.
Our marriages will often come under attack because the enemy wants to tear families apart so we need to be sure we cover it in prayer just like we do everything else. Strategic prayer! That's what this series will help you with.
I challenge you to spend 14 days strategically praying bold powerful prayers for your marriage!
Here's how the challenge works. Every day for the next 14 days you will pray in a specific way for your spouse, yourself and your marriage. You can invite your spouse to join you in this challenge, but even if he or she doesn't, it's ok, you can pray on your own.
You will also get a daily journal prompt and you'll be encouraged to journal or write down your thoughts about a particular marriage related prompt. Journaling is a great way to process your thoughts and emotions.
Every day will also have a verse for you to study and pray over. You'll even get a link to a free printable of the verse so you can print it off and meditate on it throughout the day.
It's okay if you miss a day or two- life happens! If you do miss a day, you don't need to go back and start over. Pick up where you left off and carry on. Just don't give up. Finish it.
Ready to spend the next 2 weeks praying for your marriage? Let's do it!
What you will get:
14 daily emails containing powerful strategic prayers for every aspect of your marriage
14 journal prompts to help you process your emotions and thoughts
Free printable of each daily verse to print out to help you meditate on it throughout the day
How to take the challenge:
Fill out the form below and be sure to check your inbox.
You'll see an email from me asking you to confirm your email with a link.
Click the link and then you'll get the first prayer! Check your email each day for the next 14 days!
Pray, pray, pray!