Our new Savvy Minerals Makeup is here. I cannot tell you how excited I am that Young Living now offers safe, natural makeup! Many makeup lines claim to be free of toxins but if you do some digging you will find that they contain a lot of hidden ones. As a woman that has recently developed a love for makeup this really made me jump for joy because now I can buy from the company that I love and respect the most.
Many people have been asking me how to get their hands on our makeup.
You can always buy retail of course (just search "savvy" to find our makeup) Click to order retail
Keep in mind that retail is 24% more than wholesale. You simply order and make sure to put my member number as the person that referred you 1480474.
If you would like to save the most money a wholesale account is the best idea. You save 24% off of all of your orders and no you never have to sell anything (unless you want to).
In order to get a wholesale account to get the best price on our makeup you must get a starter kit. That is the requirement. We have a basic starter kit for $45 that you can grab and then you can add whatever makeup you want to your cart. (Of course I highly recommend getting one of our bigger essential oil starter kits because I want you to love essential oils AND our makeup, but I am a mom on a budget so I understand if you can't swing it all at once.)
The option that I show in the photo below would get you the basic starter kit and the basics to starting with our makeup for $155 plus shipping but you can always decide to get our bigger starter kit with 11 oils and a diffuser instead if you prefer. You'll be getting the best of both worlds. Essential oils and makeup. The best part is that it's totally up to you which starter kit you decide to get. You can tailor it to meet your budget.
Click the button to see in instructions for how to get a wholesale account Get a wholesale account here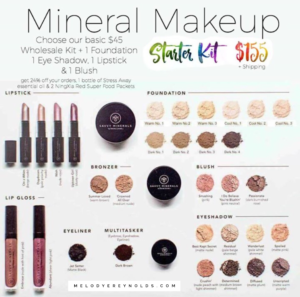 If you would like to learn more about our makeup you can click HERE. (Just remember to enter my member number 1480474 as the person that referred you if you decide to order.)