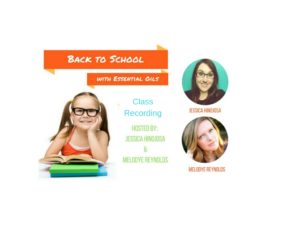 Dear Fellow Parents,
We all know what time it is! Whether it is back to school or back to homeschool, summer is coming to an end and it's time for the kiddos to get back to the business of learning. With that also comes an increase of interaction with the world and that means the sharing of germs and increased exposure to viruses! ICK! So, my business partner Jessica Hinojosa and I decided that we want to share what our families do to keep our immune systems strong all year long by using the power of essential oils.
We all just want our kids to be safe and healthy right?
Essential oils are a great way to promote health for the kids and yes, even for you as well! Let us show you…
In this webinar you will learn:
What an essential oil is
How to use essential oils on your kids and yourself safely
Tips for using oils with babies and young children
Which oils/oil infused
products
(supplements) to use to help support a healthy:
-immune system
-respiratory system
-digestive system
Which oils to use to:
-help your kids wake up and get going
-help your kids to focus for test and homework time
-help promote restfulness and calming during bedtime
Easy tips to make these products part of your everyday routine
Oils for parents because you need to be healthy to take care of the kiddos
How to get started with essential oils
How and where to buy your oils so you get the BEST!
There will also be a live Q&A session at the end!
Lets Learn About Essential Oils For Back To School Season!
Fill out the form below to grab the full class recording!