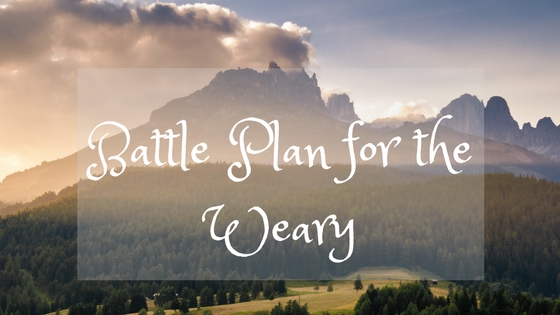 To view this video on YouTube click HERE

I recently did a live broadcast where I shared how I fight back when all hell literally breaks lose. When you are a child of God and you start making an impact for the Kingdom you better believe that hell notices. When you are doing good, evil WILL try to stop you. The hits WILL come and sometimes in waves.
I don't say this to scare you but rather to tell you how to fight back. We are not defenseless, even when we have endured one hit after another, after another. The Lord has given us powerful weapons but it's up to us to use them. It's not easy to fight when you are exhausted, disappointed or angry but below I provide a list to keep you from going under and giving up.
BATTLE PLAN
I find that when I'm really wounded I get quiet and zone out. I disconnect. So what I have to be purposeful in doing is speaking truth and life over myself. I have daily biblical and non-biblical (I am not easily offended is one example) affirmations/decrees/declarations that I have written down that I say over myself while anointing myself with frankincense oil. I believe this creates a shift in the atmosphere and reminds me of who I really am. TIP: Having them written helps me to be able to say them when my heart is hurting and my mind is frazzled. Otherwise I might be tempted not to say them.
For the book of biblical affirmations I mention in the video click HERE.
I pray more because it's harder for me to pray. I get on my knees, literally and pray. When you're exhausted and depressed and wondering why God is allowing this craziness, it's not always easy to keep yourself in prayer but that is exactly why it is SO very important. Even if it's just HELP ME JESUS! And if it involves a person, I pray for them. Oh it's soooooooo hard when someone has wounded you, but it's powerful.
I get into the word. It's hard for me to focus and I may have to reread the verses 10 times but I read my Bible. It's a sheer act of obedience because when I'm upset it's harder to pay attention. The Bible brings healing, power and peace. GET IN THE WORD!
I worship. Our biggest weapon is praising God when all hell has broken loose. When we do it in our storms it shows that our worship isn't circumstantial. I thank God for the peace and resolution that is coming. Praise on credit because although I can't see it, I know He already has the solution. Worship unlocks so many blessings and confuses the enemy. I thank God and I keep worship music playing as much as possible.
I anoint my doorposts. Just as the Israelites anointed their doors so death would pass over I anoint mine with Frankincense oil. I actually rub the oil on each of the doors that lead into my house. As I do that I declare that the enemy is to vacate. That my house serves God and God alone. That no weapon formed against me shall prosper. And whatever else my spirit stirs up in me. Talk about a shift in the atmosphere.
I fast. Jesus said that some things come only by prayer AND fasting. It is NOT easy to do when you just feel defeated. Your energy is already zapped. But we can do hard things. Suck it up and do it. When I fast I pray and read my Bible more than I usually do.
I felt like someone needed some practical steps to follow during spiritual battle time. We don't need to just sit and accept defeat. Fight back. Take action. Push! Victory is ahead!
And to help you remember these I created a printable for you. Print it out and hang it up to remind yourself what to do when you are in a spiritual fight! Fill out the form below and CONFIRM YOUR EMAIL to get your printable.
Blessings,
Melodye