In order to get a wholesale account you must enroll with a Young Living distributor– THAT'S ME! Enrolling with me just means that I help you get started and am here to assist you with any questions you may have. I teach you how to use your products as well.
YOU ARE NEVER EXPECTED TO SELL ANYTHING AT ANY TIME TO GET A WHOLESALE ACCOUNT.
(Scroll down for directions for how to enroll)
Whether you are ready to start using essential oils or to start your own business with them (or both) I am here to support you.
Please know that when you enroll under me, you will never be pressured to sell anything at any time. You can just be a user of the essential oils with me as your guide to learning about them. Some people just love to use our amazing products while others decide to explore the business side. Know that whatever you choose, I want to offer assistance and guidance that is comfortable for you.
It is my mission and passion to educate everyone on how to use essential oils in their everyday lives. So if that is all you want to learn, you are in the right place.
I am equally passionate about the business side of Young Living and I do offer business coaching to anyone in my Young Living organization that so wishes to pursue it, BUT that is ALL UP TO YOU!
Here is what you get when you join with me
Private team website which offers extensive product training so you can learn at your own pace.
Private team website that offers extensive business training accessible at any time (only for those interested in starting a business.)
Private Facebook product/wellness group full of experienced oilers.
Six other ladies and myself show you how to use the essential oils by sharing how we use them, showing you live DIYs (we make a lot of stuff with our oils) , sharing recipes (we cook with our essential oils), sharing tons of tips and we have a ton of fun. It's an amazing community.
Private Facebook business group (only for those wanting to know more about how to run the business.)
Access to monthly product education online classes
One on one support to help you learn
A team of supportive members all across the country
Deep connections and new friendships with like minded people. You become part of OUR FamOily!
TRUTH BOMB! I am not out to make a quick buck off of your order. I want to help you with your health goals and if you want to make money too, I want to help you be successful. I am interested in getting to know you on a deeper level and helping you to improve your overall life. I believe in these products and educating others on how to use them to reach their goals! So if you're game, let's do this!
What does it mean when I say "join" with me?
The first step to becoming a product user or a business builder is to enroll with me and become a member. Don't worry. There is no catch here. You never have to sell any product or spend a bunch of money just to maintain your membership (but becoming a member will save you money)!
So what's required:
Buy your starter kit (you can see all of your options here). That get's you a wholesale membership. This account saves 24% off of retail prices! Click the button to learn more about wholesale accounts!
Wholesale Account Information
Now all you have to do is buy $50 worth of product in a year to maintain that membership! It's just like a Sam's Club or Cost Co. membership EXCEPT you actually get product with that fee. You can read more about this in detail by clicking HERE!
Here is how to enroll:

Please make sure to follow ALL of the steps listed below and read through them completely.
1. Click here to officially sign up: Enroll With Me Here!
2. Click on the video and follow the step by step instructions I give. Please watch the video below so you know exactly how to sign up. You can follow the photos, but in the video, I walk you through the entire enrollment process.
Click the member option. This will save you the most money by opening a wholesale account and you do not have to sell anything unless you want to!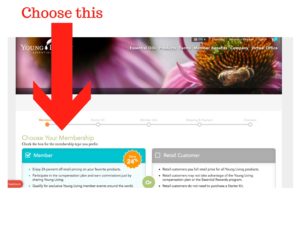 Make sure my number 1480474 is in BOTH the enroller and sponsor boxes so that you get enrolled with ME!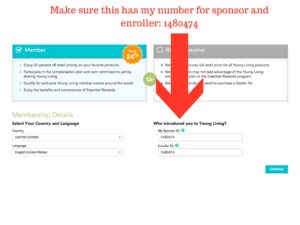 Then you will be taken to this screen: Just click "CONTINUE"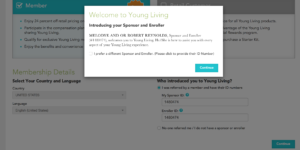 Choose which starter kit you want! This is the fun part! You can find more information on the starter kits by clicking the button below.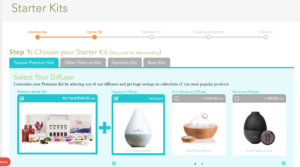 To learn more about starter kit options click the button Starter Kits
Note: Decide if you want to join the Essential Rewards program (Read below).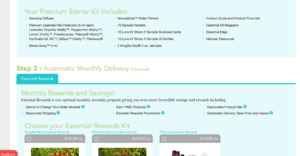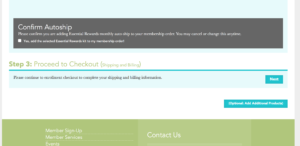 Young Living offers you an additional way to save and you have this option offered to you when you enroll. You do not have to choose this option during enrollment, but if you are interested in saving a lot of cash it is a great program to begin. Most everyone enrolled with me says they wish they had opted into this rewards program sooner. I know I do! Here is WHY…(Click HERE and HERE for more information about the program) OR click "NEXT" and this screen will pop up. You can pick a rewards kit here or just click "Proceed To Checkout" if you don't want that now. You can always add it if you want to later once you see what products you will be using the most.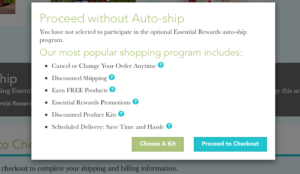 Then this screen will appear, simply fill out your information.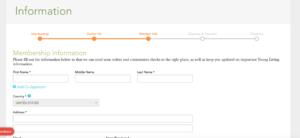 As you fill out your information, you will come to a section that looks like this:

This is just so that if you ever decide to share about the products and refer people, Young Living can send you a thank you check. It is very secure and your information is never shared with anyone, not even me. It does not mean that you are obligated to sell.
Finish filling out your information then click "Agree and Continue".
We now offer PayPal as an option to pay! Click HERE for the steps to use Paypal for your payment!
3. Check your email to make sure your order processed after you are finished enrolling. Young Living will send you a confirmation. Write down your member number and the 4 digit pin you created as this will be what you will need to access your account. Don't forget to do this.
4. Make sure you are signed up for updates from this website by filling out the sign up form at the bottom of this page! (or by clicking HERE! You will get a free recording of my introduction to essential oils class which will give you a lot of tips about the oils if you fill out this form!) That way you will be notified each time I post a new post here via email.
5. Confirm your updates from me! Very important step! You will get a confirmation email from me as soon as you fill out the form. Don't forget to do this step or you will not get my updates!
6. Also make sure you are following me on social media so that we can further connect! Pick whichever platform you love! I am on all of them!
Facebook (Tip: Be sure to like something on my page often so that it shows up in your newsfeed. Facebook works by showing you things you like, share or comment on the most!)
7. Watch your email! Just be sure to open anything that you see with my name! It's important! I don't send SPAM!
8. If you have questions, email them to melodye@melodyereynolds.com
9. Learn more about the oils as you are waiting for your kit to arrive! Along with this site and my social media, here are some other great oily resources:Oily Resources
Also, be sure to contact me and ask me about access to my exclusive private website for product education. Only my team members have access to this site as it is a perk of enrolling with me.
Becoming a member and enrolling with me means you will get a LOT of support! We will train you on HOW to use your oils.
10. Our team has 2 exclusive Facebook groups that are a wealth of information. One is strictly for product users and one is for business builders. I will send you a friend request on Facebook (or YOU send one to ME) so that I can add you to these private groups! You will be added to whichever groups you prefer as soon as I confirm your purchase of a starter kit as access to these groups is exclusive to my particular team. Take some time to explore these groups. Read through some of the posts. There are a lot of really experienced oilers that share their knowledge and are very helpful.
I do product webinars once a month to help educate you as well. You will get emails about them if you followed through with steps 4-5 above.
Now do a little happy dance! Congratulations for taking this amazing step to improving your life! I can't wait to start helping you! WHOOT!