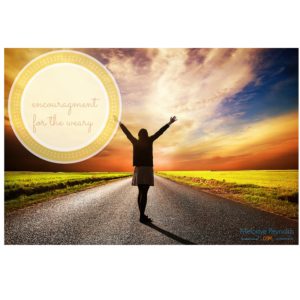 I share a lot here on this site. I share how to's and lots of information but what I really want to share is my heart. I sit at the computer to write a blog post and many many times my mind goes completely blank. I can't think of anything to share or that I think is worth sharing anyway. Yet, most nights before I fall asleep I am so flooded with ideas that I literally have to do a brain dump on paper to get everything out of my mind for the night.
Life is overwhelming at times. I feel as though I haven't been able to take a deep breath in the last year at all. In the last month alone I have had one major medical emergency, financial difficulties and car trouble (like unfixable car trouble). To say my faith has been stretched would be an understatement.
The attacks have been hard this year. Like nervous breakdown hard and then I was reminded today that it is in these times that I have to dig the deepest and PUSH THROUGH! The enemy expects me to give up. He expects me to get frustrated and give in. He expects me to have a melt down before I see anything God has for me.
Or perhaps, God is testing me. Searching the limits I have in my faith. Do I really trust Him? Like in the dark of night when I feel alone and defeated? Do I still trust that this is all for my good? That there is a purpose and a plan.
I am building a business and I can honestly say that entreprenuership isn't for everyone. I see now why people give up and go back to their day jobs. I never knew so much went into being a small business owner. So many details and a lot of hard work. (It isn't just champagne and fast cars y'all!) It's a lot of work and it requires a lot of FAITH.
I see that I am being called to speak. Called to do real work for God. Called to lead and quite frankly, IT'S SCARY! I am putting myself out there and that's hard. Some people love me while others are not my biggest fans. There are people who praise me and others that judge me. I always say "I ain't everyone's cup of tea!" and most of the time I am ok with that. Other times it hurts.
Family and friends don't support me in the way I expected that they would. Most friends are "watchers" waiting to see if I really succeed or if I fall flat on my rear! So I have ditched those that see the nut, and not the tree that I am growing into. I want to be surrounded by other trees! But that was no easy task. When people show their true colors it isn't always pretty.
God has lit this fire in me and when I look back I've always had it. I have always been a take charge, leader kinda girl. I have had situations arise where I had to be the one to take the stand for the right thing and stand alone. I come from a family background filled with disfunction and co-dependency, fear and addiction but none of those have ever stopped me. God has always had His hand on me because I could never be the person I am otherwise. There just is no other way to explain me.
The middle is the hardest they say. I am finding that to be true. Let me just be real and raw here…I am frustrated, overwhelmed, exhausted and fighting to get to the blessing.
Without a doubt I have grown more personally in the last year than I have my whole life. If you are in business for very long you will learn about the importance of personal development. I have invested in a lot of it this year and it has shown me a lot of things about myself. What my beliefs and core values really are. What I need in my life in order to be happy. Where I excel and shine. What my gifts and talents are.
I suppose that is why I have had so much thrown my way. Testing or attacks, or perhaps a bit of both, I have GROWN. Growing is painful, that's where we get the term "growing pains".
So the point? My point is this…I WILL NOT GIVE UP! I refuse to come this far only to give up. I may have to crawl, but I will move forward. I may cry, but I will get to the laughter. I may struggle, but I will become the person God has created me to be. I WILL NOT miss the blessings because I decided it was too hard half way in.
I encourage those of you struggling today–DO NOT QUIT! Life is hard, relationships are hard, owning a business is hard BUT GOD! (I always love a good BUT GOD, don't you?) God is there to strengthen you. It takes a LOT OF TRUST. When He says for us to trust Him He means at the core. Like trust Him with your life kinda trust. Trust that scares you. Trust that forces you to close your eyes and let your grip go. Helpless trust. Trust without limits. Trust that overtakes the fear, the doubt and the confusion. Trust that says there is a step there when you only see the black pit.
So I ask you to examine your heart. Do you REALLY trust Him? Are you REALLY willing to let go and let God as they say? Are you willing to believe that this is all for your best?
Stay the course friends. Hold steady if you have to for a while, but continue to move forward. Don't miss the belssings that are just beyond the trials! HAVE REAL FAITH! I am self preaching here but I wanted to let you join in because I feel that someone besides me needs to know this. If only one person ever reads this post and feels encouraged and hell is even a little bit nervous, well…then I have done my job.
I pray that you are that person!
Blessings,
Melodye