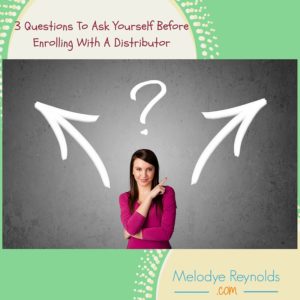 Congratulations on making the decision that you are ready to try essential oils as a wholesale member, now comes another equally important decision—which distributor you will enroll with. This person will become your sponsor.
There are 3 important questions you should ask yourself before you enroll with a distributor
1. What resources can the distributor offer me to teach me how to use the oils?
Does the distributor provide or have access to any product education to help you to get started using the oils to see the most benefit in your health?
It can be overwhelming as a new member that is just learning about essential oils to know where to even begin. Does the sponsor offer tools such as webinars (an online class where you participate with a computer), a website, videos or social media groups with other experienced oilers? All of these are important for you to have available to you in order for you to receive the most benefit from the essential oils you purchase.
Please keep in mind that your sponsor should offer you plenty of resources but that doesn't mean that you should go to them with all of your oil questions. They will not be available 24 hours a day, but the resources they give you should be. This is why having them is so important! Read More